Hi Lovelies!!
I know this post is late, but I just had to get it down tonight. I am really trying to stick to a blogging schedule, but sometimes life just gets in the way!! Anyways, I found this fun little post while searching the interwebs and thought it would be fun.
Reading: We went to the Library this past Thursday and I finally was able to find a book that I haven't read in a long time, All Around the Town by Mary Higgins Clark.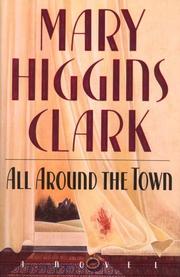 Eating: Nothing right now. I did eat some cheese and crackers earlier.
Thinking: Right now I am thinking about my To Do list that seems to grow and grow every day. And, I'm also thinking about my first ultrasound which is on Wednesday. I'm excited and nervous all at the same time!!
Listening to: I'm actually listening to the show that I am watching on Netflix.
Watching: I'm watching Parenthood on Netflix. I actually just discovered this show a few days ago and so far I am loving every episode.
Loving: That I finally get to see this little baby in a few days!!! And I'm loving just spending time with my family!!
What are you currently doing?