This is my first five question Friday. I saw this on the My Little Life blog and thought it would be fun to participate in!!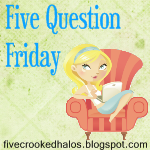 1.
What do you enjoy doing the most with your spouse?
Watching movies with my husband.
2.
H
ow do you eat your taco? From the top or from the side?
Always from the side! Eating from the top seems like it would be too messy!!
3.
Have you ever shut off the basement light and ran like a fool because you knew someone was down there and would get you?
We don't have a basement, however, I have done this with the garage/laundry room (LOL)!!!!
4.
If you could change one thing about you what would it be and why?
This is a tough question, but I think I would change my hair. It's curly and thin and I would love to have thick, curly hair!
5. What age do you think is appropriate to have the "bird and the bees" talk with your children?
I know this is something that I'm going to have to think about in the near future, but right now my daughter is only 2, so I think when the time is right I would give her the "birds and the bees" talk around the fourth grade.