I hope everyone is having a fantabulous (hee hee) Sunday! Here's this week's questions for Sunday Social.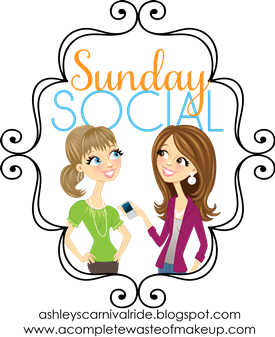 1. 4 favorite things to do on a weekend
snuggle on the couch with a good book
catch up on tv shows through Netflix and Amazon Prime
play with the Little
2. 4 favorite things about your best friend
Since my best friend is my husband......
he's fun to be around

3. 4 things you would do with $100,000
donate a little to charity

4. 4 favorite books you've ever read
Where the Heart I- Billie Letts
P.S. I Love You- Cecelia Ahern
Sisterhood Everlasting- Ann Brashares
5. 5 favorite snack foods
anything with peanut butter
chocolate chip cookie dough ice cream
6. 4 things that you must do daily