Hi Lovelies!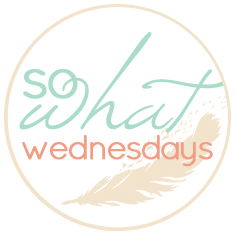 This week I'm saying So What If......
I'm beyond excited about our new lawn mover. It's gas powered and I won't have to use this one anymore!
I occasionally miss naptime.
I'm excited to open my esty shop in a few short weeks! It's something that I have always wanted to do.
I hid Angelina's two favorite movies, The Smurfs and The Muppet Movie. I need a break from the little blue people and the puppets.
I don't feel guilty about hiding the movies.
I am actually excited to watch the NFL draft with Husby.
That's it for me! What are you saying SO What to this week?