Hi Lovelies!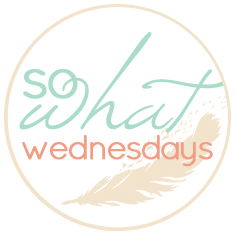 Here's what I am saying So What to this week:
So What If......
I'm not going to do the 30 day shred workout anymore. Leslie Sansone is more my style.
We haven't taken all of the decorations downs after Angelina's birthday party. She loves to look at her Dora banner.
We didn't get a picture with the Easter Bunny this year.
I love to hear Angelina sing the Barney song. She sounds to cute and I never get tired of hearing it.
I haven't written a post all week.
I have had this song stuck in my head all say long, and it doesn't help when my 3 year old sings it all day.