Hi Lovelies!
Happy Sunday Social Day! I still have my final to take and two more discussion questions to answer which are due on Wednesday and then this class will be over. Then my next class starts next Thursday! So I thought I would take a break from studying to answer this week's questions and link up with
Neely!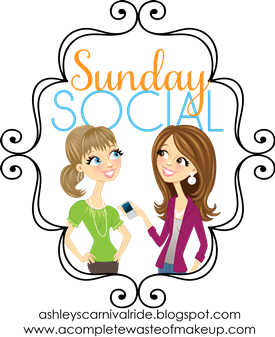 On to the this week's questions:
Top 3 Favorite Kinds of Food
Pizza
Philly Cheese steak sandwiches
Chocolate Chip Cookies Dough Ice Cream
First 3 Things you do in the morning
Check on the little
Tinkle
Brush my teeth
Last 3 Things you do at night
Same as the morning!
3 TV shows you NEVER miss
How I Met Your Mother
American Idol (in the Spring)
Big Bang Theory
3 Places you want to visit
Disney World- Florida

Sea World- Florida
Silver Dollar City- Branson Missouri
3 People you can always count on
It's going to be hard to name three people I can count on because there just aren't many that I can. I can always count on my husband.
I can always count on some pretty amazing ladies that I have met on a message board while I was pregnant. I know I can always go to them and they will always listen and give some wonderful advice.
There you have it Lovelies!!! Grab the button and link up and have fun with the questions!!
~Angie