Hi Lovelies!
Today I'm linking up with Shannon for So What Wednesday! So here's what saying So What to this week.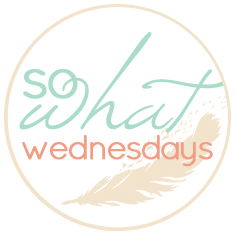 So What If......
I hate Daylight Savings Time. Yeah, it's awesome that Angelina sleeps a little bit later, but the bedtime routine is out whack now.
I ignored my diet last weekend. I needed a break from counting calories.
We are going to be outside for most of the week. It's going to in the high 70s all week and I plan to enjoy it and have a few playdates at the park for Miss Angelina.
Angelina did not nap at all this past weekend. No naps = earlier bedtimes.
Angelina's birthday is in less than two weeks and I haven't started making decorations yet.