Hi Lovelies!
Happy Wednesday! This week I am linking up with Shannon for So What Wednesday. Grab a cup of coffee, link up, and have fun!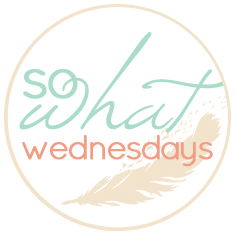 This week I am saying So What If.......
I can eat an entire Totino's pizza by myself. Those suckers are tiny and that's pretty much it!
I watch Dirty Dancing and Grease every. single. time. they come on TV. I know the words to every song and I often wish that I grew up during those times.
I cannot wait to see Jurassic Park in 3D. The last 3D movie (which was also my first) was Clash of the Titans, so at least I know this one will be better.
We are reusing last year's Easter basket this year for Easter instead of buying Angelina a new one. She loves her Elmo Easter basket and I thought she might enjoy it.
I am looking forward to next Sunday. Husby is going to a friend's house for his guy's night and I plan on enjoying a movie. Now, what should I rent? Suggestions?
Have a great day!